Jessica Anderson School Visits Interview
Topic: school visit
Website: http://www.jessicaleeanderson.com/
Trudy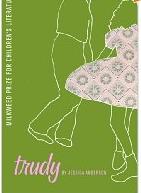 · Reading level: Ages 9-12
· Paperback: 192 pages
· Publisher: Milkweed Editions (August 25, 2005)
· Language: English
· ISBN-10: 1571316590
· ISBN-13: 978-1571316592
Winner of the Milkweed Prize for Children's Literature, this is the tale
of a girl's struggles with school and changing friendships, as well as her
heartfelt emotions that arise from helping her mother make tough
decisions after her father is diagnosed with Alzheimer's.
Jessica Anderson School Visit Interview

J. Aday: How do you design your presentations?
Jessica: I'm a former elementary school teacher, so I draw on my teaching background as I design presentations. I keep the grade level of the students in mind, as well as their experiences and interests. I also talk to the teacher(s) or librarian to customize the presentation to make my visit as meaningful as possible.

J. Aday: Describe your best school visit experience. Why was it your
best?
Jessica: My best experience showed me just how empowering school visits can be. I'd spent the day with 8th grade students at a school that is known to be "difficult." Many of the kids leaned back and tightly folded their arms across their chests as I discussed the writing process. The writing exercise went well, but I wasn't sure how deeply I was reaching my audience. When I checked my email that evening, I was astounded by the positive emails/MySpace messages I'd received from several of those 8th graders. One girl said she felt inspired to write for the first time in her life.

J. Aday: How do you utilize your book Trudy in your early childhood
presentation?
Jessica: When I do a workshop on getting ideas with young students, I talk about how they can use their memories as story starters. As an example, I share how my family memories influenced TRUDY.

J. Aday: What age range do you conduct school visits for and how do
your presentations differ?
Jessica: I primarily conduct school visits for 5th, 6th, and 7th grade students though I have visited and enjoy other grade levels. My presentations differ according to age level, content, and the desires of that particular school I'm visiting.

J. Aday: What constitutes a successful visit? What steps should
authors take to succeed?
Jessica: A successful visit gets students passionate about reading and writing. To do this, authors need to be passionate themselves and also prepared. If you're just getting started, spend some time volunteering with children and rehearsing your presentations. Find out as much about the school visit as you can before the visit actually happens. Plan your talk: what does the school expect? What do you expect? What equipment will you need? What is your schedule like? How many children will be present and what are their ages? Will you be signing books, and if so, how will the book sales be handled (by you, the school, or an independent bookseller)? There are some great resources on school visits available: blogs similar to this great one, message boards like Verla Kay's, and classes like Anastasia Suen's.

J. Aday: Do you have giveaways for children at your presentations? Give
some examples.
Jessica: I usually like to bring postcards or bookmarks--these are especially handy since kids usually beg for an autograph. I will also donate a book to the school library.

J. Aday: Can you share some tips on soliciting school visits?
Jessica: A website is one of the best ways to solicit school visits. Postcards and fliers with information about your book(s) and school visits can also generate interest. Conferences are a great way to connect with teachers and/or librarians (like the ones sponsored by TLA or SCBWI).

J. Aday: Are there any other pointers you can share?
Jessica: Expect the unexpected. Create a Plan B in case AV equipment isn't working, a student asks you to marry them during your Q + A session (yes, this happened to me), or there is a fire drill. Have a positive attitude fun!
Posted by j.adaykennedy at 7:12 PM CST
Updated: Tuesday, 18 November 2008 7:15 PM CST