Margot Finke Multi-Published Picture Book Author
Topic: writing picture books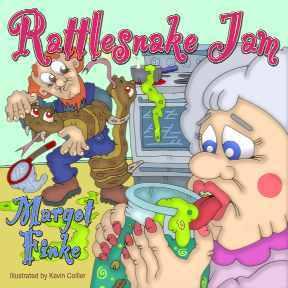 Title
: Rattlesnake Jam
Author: Margot Finke
Illustrator: Kevin Scott Collier
Publisher: Guardian Angel Publishing, Inc (May 15, 2008)
PRINT ISBN: 13: 978-1-935137-00-9e $10.95
E BOOK ISBN: 13: 978-1-935137-24-5 $5.00
DVD ISBN: 13: 978-1-935137-27-6 $9.95
Sold at Target, Amazon, Fictionwise and Barnes & Noble
On Margot's Website only - Autographed copies + coloring sheet and book mark
-
-
-
-SYNOPSIS: Rhyming fun with Gran and Pa, as he hunts rattlesnakes, and Gran cooks them up into her infamous rattlesnake jam. Pa longs for just one meal of rattler on rice, or even rattlesnake pie. Will Gran make him pie - or not?
Jessica: In the future, I'd like to interview you again and discuss your website The Purple Crayon and your critique and editing services. Can you describe both briefly?
Margot: My website started out as three simple pages - mostly designed around " Kangaroo Clues," my first book, and my fledgling Manuscript Critique Service. In quick succession, other books in my rhyming series were published, and my Critique Service developed, morphing into a service that actually paid me to do something I loved. Pages sprouted on my website in quick succession. At this point, I have lost count! All my WebPages are geared toward two things. Helping newcomers get a better understanding of what it takes to HOOK a child with cool plots, believable characters, and tight, terrific writing, plus the promotion of my own books.

My Website is titled "Margot Finke's World of Writing for Children." The Purple Crayon is Harold Underdown's wonderful website. He hosts my series of "Musings" columns. He is a wonderful mentor, and an experienced and insightful editor.

Jessica: How did you hone your writing skills? Did you attend writing classes, read books, find a mentor, use a critique group, etc...?
Margot: I have always written, scribbled, whatever you like to call it. For me, there is solace in writing down what the world throws at me - and when I was younger, I got dinged a LOT! I am proud to say that I always received top marks in school for my essays. In my late teens I joined a theatre group , wrote plays, acted in them, as well as writing stories in my spare time. Several aunts on my Dad's side were authors, or worked for newspapers, so I like to think writing is in my genes.

I read every spare moment - have always loved reading. I was the kid who got into trouble for sneaking into her room to read, instead of doing her chores. I once went two train stations past my stop, because I became lost inside the book I was reading.

I was one of the original members of the CW list: I think there were 12 members when I joined . Several of them, all talented writers, took me under their wing, and invited me into their critique group. These ladies all shared their writing wisdom with me, and were amazingly generous with their time. Writers like the late, great, Linda Smith, Linda Joy Singleton, Verla Kay, Dori Chaconas etc. All of them now well published and admired They, along with others on the then growing CW list, mentored me.

I joined SCBWI and went to conferences, and absorbed words of wisdom from editors and established writers. I networked with other writers and made connections and friendships. The generosity and support children's writers offered each other was a joy to experience.

After a while, I realized I needed feedback on my stories, and founded two critique groups: one for rhyming stories, and the other for mid grade novels. The members came from my trusty CW list, and we did it all via e-mails and attachments. We still do it that way.

I learned by writing, rewriting, letting it sit a few weeks or months, and then doing those steps over-and-over, until I had it right. And many trips through my critique group goes without saying. I owe the members of both groups a huge vote of thanks. Their various talents, be they grammar, punctuation, plot twists, character flaws, or a clear overview, helped me see my stories in a new way: shining a bright light on my writing blind spots.

Jessica: How long did you write before you had a book published?
Margot: I fit the stereotype perfectly - 10 years, almost to the day I began serious writing.

Jessica: You say you don't write for magazines. Why? Have you ever?
Margot: It just never interested me. I like the long road. In the beginning, I tended to waffle on and overwrite - neither is good if you want to write for magazines. My natural inclination is to write complete books.

Jessica: Compare and contrast your picture book writing process and your mid grade novel writing process?
Margot: Picture books are a much shorter process from inspiration to publication - but only if you learn how to craft a tight and terrific story in WELL under 1,000 words. I begin writing when a sweet idea hits me. It all flows from that idea. The fast setup, the problem to be solved, the angst about choices, the big decision, and then the wrap up. I put it away for several weeks and then reread. Yikes - how could I wave written such guff? Rework it and rest again. Repeat, with a trip or two to my crit group, until one day I reread it, and nothing jumps out at me needing to be fixed. DONE!
Midgrades and YA are different animals for me. Sure, I begin with a great idea, but think sculpting. If you are sculpting a golden retriever, and trying to make it perfect, it takes a lot of time, thought and specific skills. If you are sculpting a dinosaur, you need the same thought, and specific skills, but it takes far longer to perfect.

I don't use an outline, but I do have an overall concept in mind - beginning, middle and ending. Of course, it is not good to set this in stone. I like to be open to a big switcheroo, if that's what it take s to make the plot hum along. The first page and first chapter always suffer umpteen rewrites. They never seem exactly right to me until the last moment - just before I send it off to earn its keep. Sigh. . .
The plots are far more detailed, and intricate, there are multiple characters, places and scenes to keep track of. MG and YA need multiple facets, and a depth to the plot and characters that is not possible in a picture book. And crafting 30 - 50,000 words that will hook a reader from page #1 until "The End," takes perseverance, writing skills and talent.

Jessica: Some people assume writing a picture book is much easier than writing a novel. What would you tell them and why?
Margot: No, writing a picture book is not easier, just different. Not all athletes excel in the same sport. Well, not all writers excel in the same genre.

Jessica: Your picture books rhyme. What advice would you give a writer that writes rhyming picture books?
Margot: I have a confession. Writing rhyme comes naturally for me. It's like singing in key - you either can or you can't. And if you can't, you have to work darned hard to try and get it right. Any way you look at it, rhyming picture books are one of the hardest tasks writers can tackle.
My advice is "know your strengths." If getting the meter right is an agonizing long struggle, and the rhyming words never feel quite right, than stick to non-rhyming picture books, where you have a chance to shine. However, if you do need help, there is no better person for the job, than Dori Chaconas. A link to two of her articles, on writing smooth flowing rhyme and meter, is below. I recommend these articles to my clients all the time . They are clear, simple, and right on the rhyme and meter money!

Dori Chaconas: To Rhyme or Not to Rhyme
http://mysite.verizon.net/mfinke/Secrets.html#rhyme
First, I confer with the teacher, parent, or librarian who contacts you. When I send Press Release to a school, I add a link to my School Visits page, as well as to my BOOKS. That way they can see if my book and my presentation is what they are looking for. When they contact me, I ask if there is anything special they would like from me. I am prepared to compromise when necessary. If you have a page on your website for School Visits, and send enquirers there first, it gives them an idea of your presentation. I keep in mind that not all districts are flush with money, and let them know I will adjust my fees for schools that are struggling financially.

Jessica: You said you do not have an agent. Why haven't you pursued an agent?
Margot: Over the years I have tried to find an agent, but I guess not as energetically as I could have. And these days, it is harder to bag a good agent than it is to find a publisher. The accent here is on GOOD. There are a lot of scam artist out there. Just check this page on my website:
BEWARE Agent & Publisher Scams:
http://mysite.verizon.net/mfinke/Beware.htm#scam

Picture book writers really don't need an agent. And for the agent, it means sharing commission percentages with the illustrator ( the agent only represents the writer), so it hardly pays for their time and effort - unless you are famous and making bundles of money.

Now that I have completed books for older kids, it will definitely pay to have an agent. At this moment, I am upping my agent goal, and plan to find the right one. I have great hopes for my latest novel, "Down-Under Calling," and an agent will help me break through the closed doors of so many larger publishers. However, it won't be easy. Agents tend to want authors who are successfully published. Publishers like writers who have good agents. I have to find an agent who loves my manuscript as much as I do, and is prepared to fight for it to be accepted and published. Piece of cake - right!


Jessica: swer the following questions with "Rattlesnake Jam" and Guardian Angel Publishing in mind.

Jessica: What type of changes if any did the publisher request?
Margot: I had a choice of my book coming out as soft cover, CD FlipBook, or e-book
There was a $100 fee for the print set up only. No other money was asked for.

Jessica: Had you worked with them before? How many times?
Margot: No. They were recommended to me by award winning illustrator, Kevin Scott Collier.


Jessica: Why not or why would you recommend this publisher? What were some of the pros and cons?
Margot: If you want a publisher who really cares about books for children, and puts their heart and soul into the business, G.A.P. is the one for you. Sure they are small, and they don't have the finances backing them that the big boys others do . But they make up for this by working really hard on behalf of their authors. They provide great distribution through Ingrams and others, and a BOOK RETURN policy that allows us into some of the big chain stores. Small publishers offer personal attention and contact. They want to grow and get bigger, and the way to do that is by making sure every book they publish hits the market running, and their authors are on the promotional ball with ideas and help from the publisher. No matter who publishes your book, you will have to get out there and work your tail off to sell it. Even big houses don't budget big bucks for promoting unknown writers.

Would I love to be picked up by Knopf & Crown Books for Young Readers, or Harper Collins? You bet! That's why I am upping my search for an agent. If my MG book is good enough, it WILL find the right agent and publisher. I have to believe that, and keep on writing.


Jessica: With regard to your picture books. Do you have any input into what artist is selected?
Margot: Kevin Scott Collier, who recommended my story to the C.E.O at G.A.P, is one of their illustrators. When he approached Lynda Burch at G.A P, he said he would like to do the illustrations for my book, and she agreed it was a good idea. I agree too - his goofy art work makes my verses jump off the page! From chat among other G.A.P. authors, I gather it is acceptable for them to suggest an illustrator. If Lynda approves, it is a done deal. I guess there is far more back-and-forth interaction between the editor, the artist and writer, than larger publishers allow or want.

Jessica: Do you get to work directly with the artist?
Margot: Yes. But everything has Lynda's input, and needs her final approval. I found and worked with all 6 illustrators for my rhyming animal series on CD - and the resulting illustrations received glowing reviews.

Jessica: The artwork is so important to a picture book or to the cover of a book. What would you do, if the publisher sent you a completed book and you didn't like the artwork?
Margot: This wouldn't happen with a publisher like G.A.P. There is close input and consultation between all three of us during the illustrative process. If a first sketch is lacking, or not quite right to one of our eyes, it is hashed out right then. I can't draw to save my like, but I have an eye for what looks right. I have heard of authors crying when they get that first glimpse of their picture book from a large publisher. For new writers, and the non famous, the input between artist and writer is nil. Yet strangely, this does not happen often. The editors and artists working for these houses know their stuff. I have heard far more often from authors who said the illustrations were different from what they had imagined, but that they loved them, and thought them way better.


Jessica: Thank you in advance for sharing your experience and insights. I'll let you know when the interview is posted.
Margot: Thanks for taking the time to work out all these in-depth questions, Jessica. You really had me scratching my head with some of them.
Posted by j.adaykennedy at 8:26 PM CDT